November Recipe: Butternut Squash Soup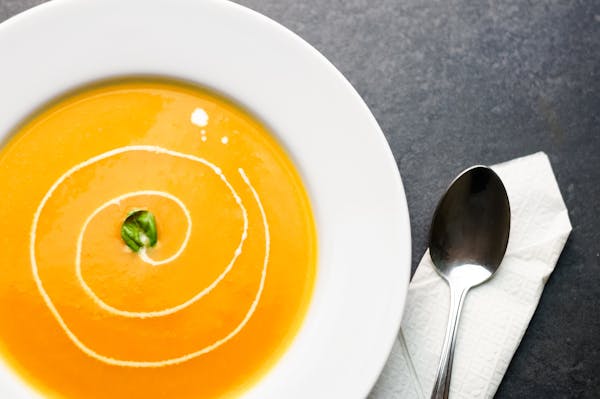 Every other month, Chef Fernando will highlight a seasonal ingredient and a recipe for an easy to make dish.
With Thanksgiving in just a couple of weeks, it is squash galore in all the farmers markets! My favorite winter squash is butternut – you can find it almost anywhere and it's so easy to work with. Now that the temperature has dropped in NY, it's the perfect time to make butternut squash soup.
- Chef Fernando
Ingredients
1 large butternut squash
1 tablespoon olive oil, plus more for finishing
1 large carrot
1 large onion
½ cup chopped shallot
1 teaspoon salt
4 garlic cloves, minced
1 teaspoon maple syrup or honey
⅛ teaspoon ground nutmeg
Freshly ground white pepper, to taste
3 to 4 cups vegetable broth, as needed
1 to 2 tablespoons butter, to taste
Mexican crema to garnish
Sage to garnish
Directions
1. Cut butternut squash in half, drizzle with a little EVOO and season with a pinch of salt, place on a baking sheet facing up and covered with foil, and roast at 350f for about 45min, or until fork tender.
2. Peel and rough chop carrot, onion and shallots.
3. In a medium pot, add some EVOO on medium heat. Once hot add carrot, onion, shallots, and garlic. Sweat items until uniformly soft.
4. Take butternut squash and chop into smaller pieces and place into pot.
5. Add 2 cups of vegetable broth and bring to a boil. Once up to a boil lower to a simmer.
6. Simmer for about 20 minutes and remove of heat.
7. Place in a food processor or use a stick blender and begin pureeing.
8. Gradually add nutmeg and maple syrup and additional broth if needed to your preferred consistency.
9. Add butter towards the end.
10. Season with salt and pepper while still hot to desired taste.
11. Once ready to serve add some crema on top and sage to garnish.
12. Enjoy
Serves 2-4