January Recipe: Chips + Sunchoke Dip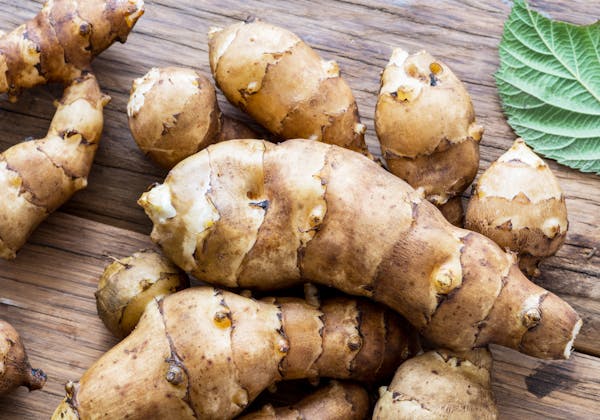 Every other month, Chef Fernando will highlight a seasonal ingredient and a recipe for an easy to make dish.
With the Super Bowl coming up, satisfy your hungry game day guests with sunchokes, an all time favorite vegetable. I love sunchokes/jerusalem artichoke for their nutty and sweet taste and for their versatility. We can enjoy them raw, roasted, fried as chips, pureed, grated as a dip and even as a beer. Truly one of my favorite ingredients.
- Chef Fernando
Baked Veggie Chips (you can fry them if you choose to)

Ingredients
1 Medium Golden Beetroot
1 Medium Beetroot
1 Medium Zucchini
1 Large Carrot
1 Large Parsnip
1 Small Sweet Potato
1 Small Rutabaga or Turnip
1 Medium Sunchoke
1/2 tsp sea salt
1/2 tsp pepper
Directions
1. Preheat the oven to 400F.
2. Slice all the veggies into uniformly thin slices with a knife or mandoline. In a bowl, toss them with the oil, salt, and pepper until evenly coated.
3. Spread out on baking pan(s) lined with parchment paper, minimizing overlap. Bake for 10 minutes at 400F. Flip. Bake for another 5-10 minutes until crispy and slightly brown but not burnt. Watch them carefully and even remove some early if they are browning before the others.
4. Remove from the oven and allow to cool for a few minutes before eating.
Sunchoke Dip
Ingredients
1 lb sunchokes, ~.5", scrubbed and chopped into small pieces
2 Tablespoons olive oil
2 teaspoons coarse sea salt, or more or less, to taste
1/2 cup creamy cheese of choice - I used goat cheese; or cow's milk cheese if you prefer.
2 Tablespoons fresh lemon juice
2 Tablespoons of water, or more, depending on your desired consistency
1/4 teaspoon coarse salt
1/4 teaspoon coarse-ground black pepper
Directions
Preheat the oven to 400F. Cover a cookie sheet with parchment, a nonstick pad, or a lightly greased piece of tinfoil. Set aside.
In a large bowl, toss the chopped sunchokes with the oil to coat.
Spread them evenly on the cookie sheet and sprinkle with sea salt
Roast for 25 minutes, or until tender.
Let the sunchokes cool slightly before transferring them to a food processor. Pulse a few times to chop them into smaller pieces.
Add the cheese, lemon juice, water, salt, pepper and process until smooth.
Adjust seasonings to taste before serving.